Georgina McKay
Australian stocks are on the cusp of an all-time high as what's shaping up to be a mixed reporting season gets into full swing.
The country's S&P/ASX 200 Index is about 1% from its August 2021 peak after a rebound on China's reopening and a wider recovery from last year's global rout. The benchmark is up 7.1% in 2023, in line with the Asia Pacific's regional stock gauge, ahead of corporate reports that are expected to focus on cost-of-living pain and optimism over Beijing's shift from Covid-Zero.
"Outlook comments are going to be few and far between, and probably heavily caveatted, but for those that do report them, they will get rewarded," Anna Milne, equity analyst at Wilson Asset Management, said in a Bloomberg TV interview. "There are pockets of value, but you have to choose carefully given the ramp into these results," she said, referencing Australia's recent stock gains.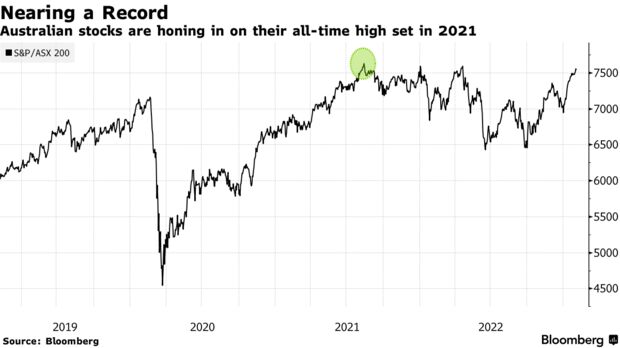 Here's what to watch this earnings season:
China Hopes
The China reopening story is fast becoming one of the most important trading themes for Australia in 2023. Investors will be looking for clues on how companies are set to benefit, and how much good news has already been priced in.
"Right now people are just really piling into the commodity names" on China's demand for metals, but travel, education and wine shares still stand to gain, said Jun Bei Liu, portfolio manager at Tribeca Investment Partners Pty Ltd.
Commentary on Australia-China relations is also in focus amid growing signals of a thawing in trade ties between the two countries, following more than two years of sanctions on Australian exports by Beijing.
Key stocks to watch: Treasury Wine Estates Ltd. (YTD +8.2%), New Hope Corp. (YTD -6.6%), Fortescue Metals Group (YTD +7.1%), IDP Education Ltd. (YTD +16%)
Consumer Sector Caution
Investors will be watching how the country's debt-laden consumers are grappling with the Reserve Bank's fastest tightening cycle in a generation.
There will be "all eyes on trading updates to see how the post-Christmas consumer is tracking," UBS Group AG analyst Richard Schellbach wrote in a note. "We have identified that consumer euphoria is now behind us, and that a cliff could be approaching."
Key stocks to watch: Woolworths Group Ltd. (YTD +8.9%), Harvey Norman Holdings Ltd. (YTD +1.9%), JB Hi-Fi Ltd. (YTD +14%), Qantas Airways Ltd. (YTD +8%)
Resource Dividends Dive
Among companies on Australia's benchmark, dividend payouts are expected to fall 8% this year, according to data compiled by Bloomberg. Miners are tipped for the largest decline on weaker prices in some commodities and expectations for softer earnings.
"The outlook in the year ahead is not the position to encourage the miners to splash the cash," said Hebe Chen, an analyst at IG Markets Ltd. Iron ore miner Rio Tinto Ltd.'s decision to slash its dividend in July also raises the chances that peers BHP Group Ltd. and Fortescue Metals Group Ltd. could also go into "cash-saving mode," she added.
On the other end of the scale, energy shares are expected to lead payment growth in 2023 as gas and coal prices remain high.
Buoyant Banks
Banks are expected to become a bright spot as surging interest rates boost margins and stimulate earnings momentum.
Commonwealth Bank of Australia, the country's largest lender, could post a positive surprise when it unveils half-year results, Bloomberg Intelligence's Matt Ingram wrote in a note. It's the only one of Australia's so-called big four banks to report earnings this month, though other lenders will issue trading updates.
Still, while CBA could exceed expectations this earnings season, the sector's outlook beyond 2023 "is more challenging as interest rate benefits normalize and impairment charges rise," Macquarie Group Ltd. analyst Matthew Brooks wrote in a note.
Lenders' commentary on the property market is also in the spotlight after Australia's home prices declined further in January.
Key stocks to watch: CBA (YTD +7.9%), National Australia Bank Ltd. (YTD +6.1%), ANZ Group Holdings Ltd. (YTD +8.1%)
Licensed by Copyright Agency. You must not copy this work without permission.